Knights of the Zodiac Cards
Source: AnimeCDZ/Saint Seiya it/Cerebrau/Jabu/oO Seiya Oo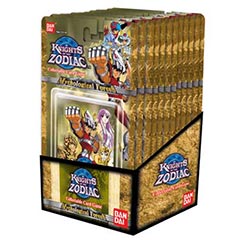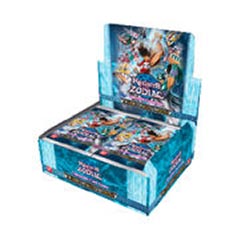 "Knight Of the Zodiac (KOZ) Trading card game " est un jeu qui rentre dans la lignée des jeux de cartes "Magic the gathering", "Yu-Gi-Ho" et autres...
Il se joue à 2 joueurs, l'un contre l'autre dont l'un des joueurs doit utiliser ses forces pour attaquer et l'autre pour se défendre. Tout un arsenal de cartes de chevaliers, Power of Zodiac, Technique et champs de bataille sont à la disposition de chaque joueur. Ce jeu fait appel à la stratégie et à beaucoup de réflexions de la part des joueurs.
Pour jouer, il faut que chaque joueur possède :
Un paquet de 45 cartes dont 5 "champs de bataille"
Un tapis de jeu (au début, pour apprendre à jouer).
Les Types de cartes :
1) Cartes de chevaliers: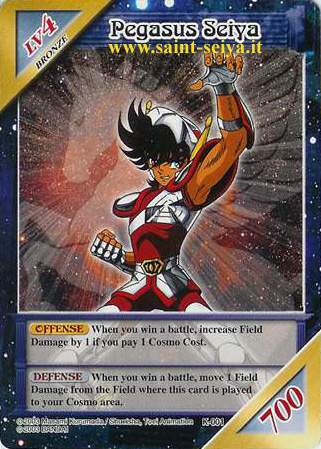 2) Technique: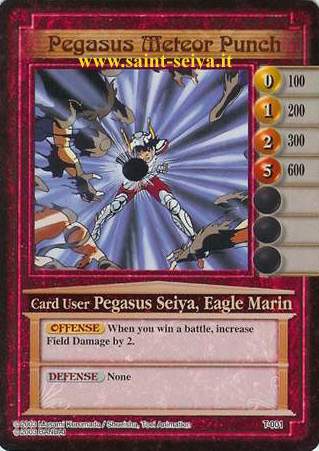 3) Power of Zodiac: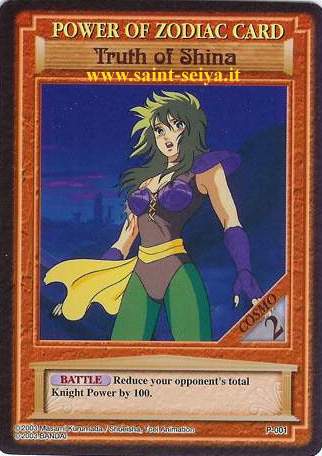 4) champs de bataille: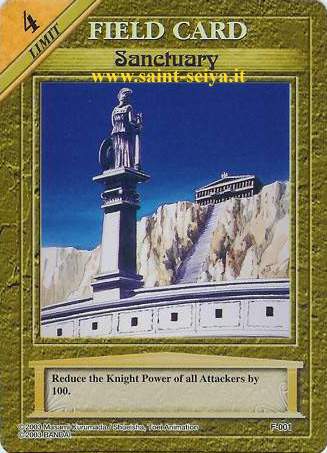 Le dos d'une des carte:
Concrètement:
6 classes de cartes :
* communes (C)
* peu communes (U)
* rares (R)
* spéciales holographiques (H)
* gold (G)
* Super rare (S)
Les Decks:
2 starters deck (jeux de cartes prédéfinis qui vous permettent de jouer immédiatement):
* Power of the Constellations
* Perilous Conquest
Chaque "Starter" possède :
18 Cartes de chevaliers
17 Cartes de Technique (cartes qui vous permettent de rajouter des bonus à vos chevaliers)
5 Cartes Power of Zodiac (carte qui permette de modifier les paramètres de la bataille)
5 Carte de champs de bataille
1 terrain de jeu
Power of the Constellation: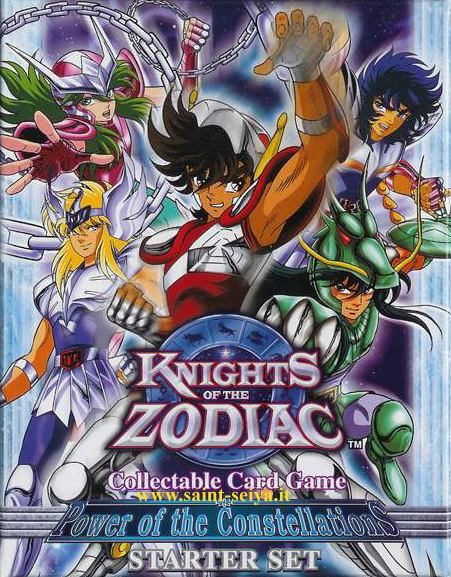 Perilous Conquest
Les Boosters:
Ensuite, vous avez les "Booster" ( Paquets de cartes contenant 9 cartes aléatoires dont 5 communes, 3 peu communes, 1 rare)
3 Type de booster (60 cartes en tout par série):
* A New Era of Heroic Legends (Booster Series 1)
* Mythological Forces (Booster Series 2)
Occurrences :
* spéciales holographiques 1 carte tous les 3 paquets
* gold 1 carte tous les 7 paquets
* super rare 1 carte tous les 11 paquets
A New Era of Heroic Legends (set 1)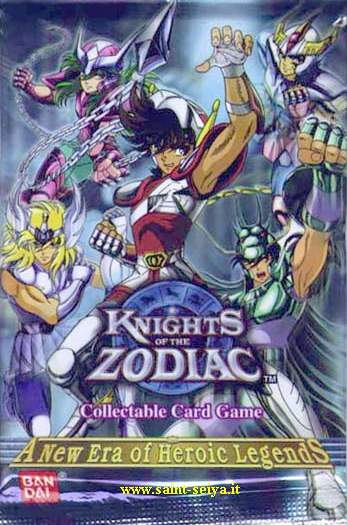 Mythological Forces (set 2)
Le Jeu :
Chaque joueur doit donc disposer de 45 cartes dont 5 cartes (pas une de plus, pas une de moins) "champs de bataille". Le jeu se déroule en 2 parties gagnantes et à chaque partie l'un des joueurs joue l'attaquant et l'autre le défenseur. Le défenseur utilise ses cartes "champs de bataille et l'attaquant retire les siennes de son jeu.
Vous devez déposer, en fonction des phases de jeu, vos chevaliers sur les "champs de batailles" et les faire combattre en fonction de leurs caractéristiques d'offenses ou de défenses. Le gagnant de la bataille remporte les points de niveau des chevaliers vaincus. Le but de chaque partie est d'obtenir 20 pts ou que tous les champs de batailles soient détruit.
Ce jeu est vraiment pas mal, les cartes sont belles (captures du dessin animé en général) et l'on retrouve très bien l'ambiance de saint seiya ( comme marine qui ne peut combattre seiya, ou ikki qui peut revenir dans la partie...)
Pour le starter deck il vous en coûtera environ 15€.
Pour le booster de 9 cartes aléatoires il vous en coûtera environ entre 3€ et 5€.
Si vous voulez les cartes à l'unité les prix varient entre 0.5€ pour les communes jusqu'a 20 € pour les supers rares.
A noter que certaines cartes ne peuvent qu'à treavers des figurines ou les Box DVD, mais cela de manière aléatoire; donc vous n'êtes pas sûr d'en avoir une si vous achetez la figurine ou le Box DVD en question.